Hello, again. Welcome to Throwback Thursday which is Friday this month because the fabulous Sandra from mmm!quilts has a lot, and I mean a lot, going on right now, so she moved Thursday to Friday for the linky party. If you don't believe me, head on over to her blog right now and see her recent posts. It's amazing. Really. Go ahead. I'll wait. (Just come back, okay?)
So, last month I shared a quilt that I made for my brother-in-law's office a long, long time ago. This week, I'll share another more recent quilt I made for him--this time while he was fighting ALS in 2012. It's one of those gut-wrenching quilts to make--the hardest of all kinds.
I don't really have a lot to share about it because I have very few notes, and they are incomprehensible. I do know that I first saw the design in a quilt on Etsy and saved it to Pinterest because I knew I would make it someday. The quilt had already been sold, which was a good thing because otherwise I would surely have wanted to buy it. I went back to the photo yesterday, and the link is no longer active, so I have no idea who made it and whether it was from a pattern or not. (If anyone recognizes it, let me know and I'll give proper credit.) I think the maker lived in Arizona, but I'm not sure of that either.
I chose muted colors. There are a few purple patches sprinkled in. I'm glad because I did not know at the time that L's favorite color was purple--celebrated by his family in their clothing later at his funeral.
I'm thinking that the blocks were about 4.5 inches square, so the quilt was approximately 36 by 45 inches. L was in a wheelchair by that time, so the quilt needed to be fairly small. I used the same fabrics in a different pattern on the back. Based on my recall of the quilt size, the blocks must have been about 9 by 12 inches.
I hand quilted the quilt with a large stipple, which went pretty quickly on this small project.
If you zoom in, you can see that I did not use a separate binding, but turned over the backing to the front instead and machine sewed it down. I must have really been in a hurry to finish this (well, I know I was) because I don't usually do a binding that way. I did a strange thing with the miters, sewing a little rectangle over them, maybe to reinforce them? I have no idea why I made it that way.
As I said, these kinds of quilts are always hard to make. And this one, especially, because there was no hope of recovery. I do hope that the quilt brought L some measure of comfort in the remainder of his life.
I knew I wanted to share this quilt today when I wrote my last Throwback Thursday post. I didn't realize at the time, though, that I'd be writing this during the week of February that holds several sad anniversaries for our family. But something happened yesterday morning when I opened my email and read a blog post from Bernie over at Needle and Foot. She announced a new project that involves making doll quilts.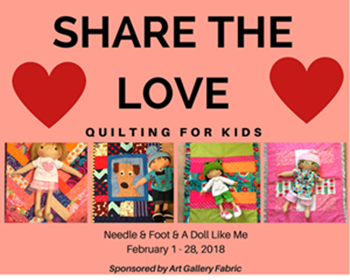 I decided that it was time to make a quilt for a happy purpose and spent the rest of the day happily planning and piecing a tiny quilt. Please go over and read all about her project (It's really about a whole lot more than making doll quilts.) I think that just maybe you will want to sew some of these. I know it was just the lift I needed in a week that is usually dreary with memories.
I'm linking up with Sandra's Thursday Throwback party. I hope you'll find something to share from your pre-blogging days, too!