I was on vacation last week, and the most quilting I did was a bit of hand quilting on a border of my Fall Maple quilt. I put a picture on Instragram, but that was all I could muster for social media. I was too busy looking at the sunset in the evenings to get a blog post out. Not that I'm complaining. At all.
But this week I've been working on a secret project that I'll tell you about in a few weeks, so I still have nothing to write about. Well, I didn't until last night when I opened my email and found out that Bernie from Needle and Foot had nominated me for a One Lovely Blog Award. Isn't that sweet? And now I have something I can write about. I've seen these awards on other blogs and have always thought they were a neat way to showcase the inspiration and work of quilters. They help us celebrate and get to know other quilter bloggers and spread the word about all of the quilty fun that goes on in Blogland.
First of all, I need to get some "requirements" out of the way. Here's the cute little logo of One Lovely Blog Award. (I sure wish I knew where this all started.)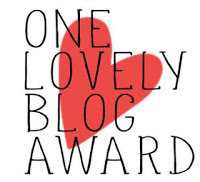 And here are the rules (I'm paraphrasing here--I don't know if there's an official way to list them):
--Thank the person who nominated you and post a link to that person's blog.
--List the rules.
--Display the logo of the award on your post.
--Post seven facts about yourself.
--Nominate (up to) 15 bloggers for this award, and let them know that you did it.
Okay, here's the first requirement, but you know I would have done that anyway! Thank you, thank you, thank you, Bernie! If I could have, I would have nominated you. Your blog was one of the first ones I started reading when I got interested in quilt blogs, and I love how it's led to a modern-day penpal. I admire you for your prolific quilting and varied quilt projects, your ultra-cool coffee cozies (even though I don't drink coffee), your relaxed and enjoyable style of writing, and your excursions into other areas of interest--such as apparel sewing, gardening, cooking and vacation retreat renovations. I always drop everything and read whenever your posts pop up because I know that they will be a bloggy treat. Seriously, if anyone reading this hasn't already read Bernie's blog, stop reading this, click on the link above, and go there. Now. (And then come back.)
Now, for seven facts about me...
I just passed my 2nd anniversary as a quilt blogger. Well, how about that? I had to look it up just now. My first post was on August 27, 2014. I suppose I should have had a little celebration, but I'm not good with dates, so it just passed me right by. (Hey, that means I've known Bernie for two years. Wow!) This really is quite something, as anyone who knows me knows that I hate to write. But it is a good way to document my quilting and it's been fun meeting other quilters along the way. Here's the first quilt I wrote about:
When I'm not quilting, you might find me bicycling somewhere in Michigan. We have lots and lots of rail-trails and other bike paths. In fact, one leads right from my neighborhood. This past week we rode the Hart/Montague trail. It goes through several small towns in the heart of Michigan's orchard lands and asparagus fields, and right past a dairy that serves a bottomless cup of milk. (I won't tell you how many cups of chocolate milk I drank there!) Here are a couple of pictures of our ride--including one of a barn quilt!
I love, love, love lighthouses and sunsets and Lake Michigan. Even though my blog is about quilting, pictures like these will sometimes sneak into my blog. Here are some views from our recent vacation:
I love reading memoirs--especially ones about building something--a house or a new life. And if there are enough clues, hints or outright descriptions to help me find the location on Google Maps so I can follow along in real pictures, all the better! I just finished The Penny Poet of Portsmouth by Katherine Towler. If you write about building or remodeling something in your blog, you can be sure I'll eat that up, too.
I am a fair weather gardener. I get all excited about gardening in the spring, and I take lots of pictures (and share them here) as my flowers bloom. But then summer sets in, and I quickly lose interest. We've had a drought this summer and it did weird things to my garden that I'm embarrassed to share. But I will. Here's is how my coleus garden usually looks:
Big coleus, small supporting role for hypoestes. But here's how it looks this year:
I guess the hypoestes thrives on drought. The coleus, not so much.
My favorite quilts to make are donation quilts. When I decided I wanted to make quilts faster so I could donate them quickly, I bought an old treadle sewing machine and taught myself to FMQ on it. Previously, I was a hand quilter. The treadle was a cheap alternative to a domestic or long arm machine that I could quilt on. I also started entering giveaways to build a stash just for donation quilts. It's worked out well. Nearly every donation quilt I've made is from primarily giveaway fabric. And I think the reason that these quilts are most fun is that I am challenged to use fabric I might not choose myself. Here are a couple of recent quilts I made from giveaway fabric:
I enjoy being an armchair traveler. I really like to read blogs or look at online photo albums of other people's travels. Which leads me to my nominations for One Lovely Blog Awards...
Although lately I've been a bit remiss in commenting on blogs (summer routines or lack of them), I do read quite a few blogs. But I'm going to put just two out there that I have recently discovered. These blogs both center around quilting, but with the added fun of travel.
The first quilter I want to nominate is Louise from My Quilt Odyssey. The first thing that attracted me to her blog was the boat on her header with the quilts hanging from it. Beautiful! She lives on that boat, and makes lots of lovely quilts--making very efficient use of the space she has. She and her husband have a companion blog about their travels (there's a link on her quilting blog)
. I especially like that she makes a lot of quilts for Project Linus (inspirational patterns for the rest of us) and writes little tips along the way as she quilts. Flipping back and forth between the two blogs is very enjoyable indeed.
The second quilter I want to nominate is Karen from Tu-Na Quilts, Travels and Eats. She and her husband just finished a whirlwind tour of Minnesota on a 72-store shop hop!! Her detailed account of the hop is delightful in every way--from the interesting shops to the logistics of such a tour to all the loot! She has her blog posts divided up into categories so you can just focus on what you're interested in, but really, you'll want to read them all.
Do go visit these blogs if you haven't already. They are such lovely blogs.
I'm linking this post with Sew Fresh Quilts. I hope you are having a great time this week with your own lovely blog.
I'll be back tomorrow with a Throwback Thursday post.